Ramona O'Brian



Real Name

Ramona O'Brian

Homeworld

Species

Affiliation(s)

Abilities and Powers

N/A

First Appearance

Voiced By

Relatives

Plastic Man (husband), Baby (son).
"Don't you "oh Ramona" me Edward O' Brian"
History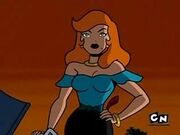 Ramona O'Brian was the wife of Edward O'Brian more commonly known as the elastic hero Plastic Man. She met and married Plastic Man and had a son whom was never given a name in the show and simply called Baby. She was very overprotective of her son and showed resentment that Plastic Man continued his crime fighting career. Eager to stray Baby away from a life as a superhero, Ramona wants him to become educated and cultured. She has strong reservations against Plastic Man's own superheroics, as well. She, Baby Plas, and the dog, Schnitzel were kidnapped by Kite Man and planted on a giant kite death trap. Luckily, Plastic Man saved them before a lightning bolt struck the kite.
Appearances
Trivia
Ramona resembles Plastic Man's wife from the Plastic Man comedy hour show in the 80's except her hair is blond not orange.
Community content is available under
CC-BY-SA
unless otherwise noted.