King Tut



Real Name

Professor William Omaha McElroy

Homeworld

Species

Affiliation(s)

N/A

Abilities and Powers

Egyptology and Theft

First Appearance

Voiced By
History
Origin
King Tut
aka Professor William Omaha McElroy was an Egyptologist at Yale University. After a blow to the head during a student riot, the Professor developed amnesia and thereafter believed he was a reincarnation of King Tut. He sought to take over Gotham City and defeat Batman and Robin. He was defeated by another blow to the head, returning him to his normal state. In one of Batman and Robin's greatest cases, they wrapped themselves in bandages soaked in butter milk, the only way to repel King Tut's pharaoh rays. He used it to turn people into his zombie slaves and commit robberies. During a bank heist, the Dynamic Duo defeated Tut and destroyed the weapon. All victims were restored to normal. King Tut was recently imprisoned at Iron Heights, Blackgate Prison, then transferred to Arkham Asylum.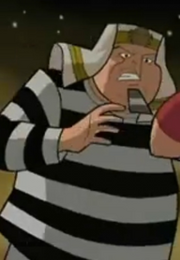 Powers and Abilities
TBA
Appearances
Community content is available under
CC-BY-SA
unless otherwise noted.