Batmen of the Multiverse



Base of Operations

Team Leader(s)

Current Members

N/A

Former Members

N/A

Allies

Enemies

First Appearance
"Traveling alone is a great way to get in touch with yourself."
History
On alternate Earths, you will often find other versions of the Dark Knight. These include a vampire Batman (inspired by the comics story Batman & Dracula: Red Rain), a pirate-themed Batman (Captain Leatherwing, based on Detective Comics Annual #7), a big-headed psychic Batman, a super-strong "Hulk" Batman (inspired by The Brave and the Bold #68 (1966)), a cowboy version of Batman (inspired by the Justice Riders comics miniseries), and a futuristic Batman.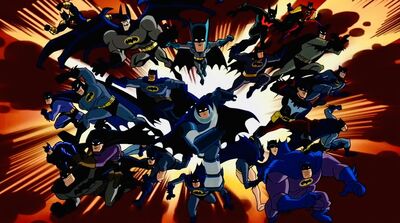 Members
Robins of the Multiverse